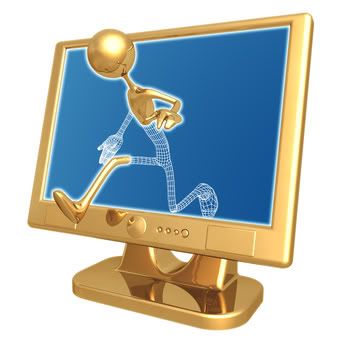 Kim Yoo-chul and Choi Mi-sun were good parents. They dedicated hours on end to raising their daughter, Anima, while their real, unnamed, three-month old daughter starved to death.
This, and other recent issues regarding online addiction and cyber bullying, go beyond being irresponsible to reveal the tragedies that can happen when the virtual and real worlds collide. Nowhere is the potential for this greater than in the gaming and virtual world environments where some people spend as much as ten hours per day, not just playing games but living in pseudo worlds.
The fact is that most people responsibly manage their online and real world selves, and escaping to a virtual world is no more addictive than watching a good TV show. However, for some reason or reasons, others can't get enough, which is unfortunate since virtual gaming is going to take over our lives according to Jesse Schell, a game designer and professor at Carnegie Melon University.
If the opportunities available in Second Life are any indication, Schell's prediction has already started to unfold. The following is a sampling of the real life areas in which Second Life has already gained significant reach.
Entertainment
Video games, and by extension, online games used to be for kids. Statistics show however, that the vast majority of virtual players are adults older than 26. With so many environments to choose from: outlandish planets with their own culture to the ability to create one's own alter-environment, it is no wonder that the more popular sites like Second Life play second home to more than two-million subscribers with more than 50,000 online at a given time.
Commerce
As if the sheer entertainment value isn't staggering enough, virtual environments are giving a deeper meaning to the term e-commerce. Virtual shops and businesses that were once figments of someone's imagination are translating into real dollars for some people. But how? Forbes has a list of virtual professions that have turned out to be pretty lucrative.
Already established, social media savvy companies, like Dell, are also getting in on the act.
Education & Training
Second Life actively promotes its platform as a medium for education and training. The advantages for learning institutions and businesses lies in the fact that Second Life goes beyond the typical tools used for teleconferencing and distance learning. In addition to the ability to meet online for collaboration purposes, real environments such as the classroom can be mimicked, and simulations can be created without having to develop new software technology.
Despite these advantages, some colleges are returning to the real world in hopes of creating their own virtual environments following Second Life experiences that did not live up to the hype. Considering its commercial success, Second Life might be a better alternative for companies like Alpine Access that are in need of an interactive meeting point for employees that are geographically dispersed across the country.
While it is my personal hope that gaming technology does not grow to the point (at least not in my lifetime) where it is somehow integrated into how we brush our teeth, as Schell asserts, where we are at now is clearly only the beginning.